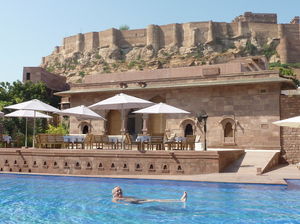 Open hours
Check in/check out- noon to noon
Budget
Starts at INR 10855 per night
RAAS
Luxury is one word that defines RAAS as one of the boutique hotels on Jodhpur. The grand Haveli and the architecture is what will catch your attention as soon as you enter the place. The hotel is located on the foothills of Mehrangarh. The place has a huge spa, a large swimming pool and various dining options and restaurants. The view is enthralling with Mehrangarh just around the corner. The house has a flawless hospitality with a 24 hour room service to all the guests. The bathrooms in the room are stylish and the rooms are full of amenities and comfortable furnishings living up to the cost they charge per night.
Places to stay near
RAAS
OLD HAVELI JODHPUR, THE BLUE HOUSE
CrashPad - 4 Bunker Room & B'fast
CrashPad Hostotel Jodhpur
Reviews of
RAAS
•
2
Raas, in its present form, is a chic, modern conversion of an 18th-century haveli. The hotel comprises of four original buildings, with three additional contemporary structures. Every room in the hotel enjoys a spectacular view of the Mehrangarh Fort, which was rated "Asia's Best Fortress" in 2008 by Time magazine.