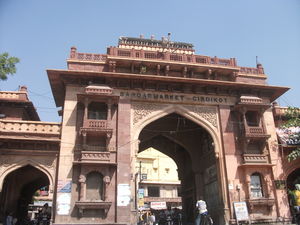 Best time to visit
As soon as the market opens to avoid the crowd
Open hours
Till 7:00 PM in the evening
Things to do
Shop spices, fabrics, handicrafts
Budget
For eating and shopping
Rank
23 out of 88 attractions in Jodhpur
Sardar Market
Another of the affordable options for shopping nice Indian and Rajasthani textiles and fabrics as well as handicrafts, this is one place worth a mention in the list. The Sardar Market is an old village area for shopping and also offers some good and pure spices. However, one drawback of the place is that it is always crowded. There is a major attraction in the middle of the market in the form of a clock tower. Omlet guy is the best to head to for a quick bite whereas do not forget to try the Malai lassi when in the market. Overall, make a good budget for shopping and eating when here.
Places to stay near
Sardar Market
CrashPad - 4 Bunker Room & B'fast
CrashPad Hostotel Jodhpur
Bhavyam Heritage Guest House
Reviews of
Sardar Market
•
3
The city's main shopping area is Nai Sadak, lined mostly with sari and shoe shops and leading straight into Sardar Market, a full-on bustling Indian market with a barely contained riot of sights, sounds and stinks. The clocktower in the center is a useful orientation point. Best to head into the different shops by yourself, as rickshaw drivers and other locals will do their best to direct you into certain shops where they can earn a commission for sales; you can expect to get better prices if the shopkeepers do not have to pay a percentage to these other guys. And be prepared to spend a good hour or more in a shop chatting with the very friendly owners over a cup of masala chai. This is the true highlight of Rajasthani hospitality. You will find Rajasthan (and especially Jodhpur) to be full of amiable and kind people who will be quick to offer you chai as a symbol of genuine hospitality first and foremost (not at all significant of an attempt to coerce you to buy). It is not uncommon for them to turn their shop upside down to show you all of their goods, as many are quite proud of their business.
Shopping has always been a necessary component of a city tour. And especially if you are touring the heritage city of Jodhpur in Rajasthan, it's a no way back home without it. Shopping in this famed city is as eventful and rewarding as its monuments and forts. Home to numerous skilled craftsmen, the markets in Jodhpur are a rich source of authentic Rajasthani antiques that cannot be found anywhere in the world. Besides buying those traditional pieces of cloth, one can look for Bandhini, Antiques, Footwear and in the markets of Jodhpur. We ended up buying 11 pairs of jootis, silver earings, leather bags, embroidered cloth wallets and souvenirs for the friends.
It is the old village market in the city and displays a lot of colorful options, be it handicrafts, fabric or spices. It is quite crowded and might be a bit too much for some people. A functional clock tower is right in the middle of this market. For quick bites, the famously hyped omelet guy will do and sweeten it down with some malai lassi.
Attractions near
Sardar Market