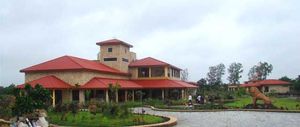 Best time to visit
Make this hotel your residence when you visit Gujarat.
Open hours
Check out time is 12 noon.
Things to do
The Gir National Park is a great place to start off with.
Budget
Room prices start at INR 3500.00 and spiral upwards.
The Gateway Hotel Gir Forest
One will find the Gateway Hotel in the Junagadh Sasan district of Gujarat. The hotel is an ideal spot for couples to spend their honeymoon and families to stay at while touring the state of Gujarat. The Hotel faces the beautiful Hiran River and is enveloped by a thick blanket of jungle greenery. Some of the amenities provided by this 28 room hotel include air conditioning, a bar cum lounge, a fitness centre complete with a Spa, a restaurant that serves up multi-cuisine food, a swimming pool and help to take care of one's babies. The rooms come equipped with LCD TV's, a mini-bar, a tea and coffee maker and as well as an iron and ironing board
Reviews of
The Gateway Hotel Gir Forest
•
1
Superbly maintained by a well-oiled team, this hotel is conveniently located close to the Gir National Park.
Attractions near
The Gateway Hotel Gir Forest