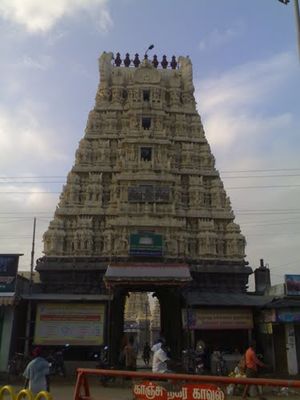 Traveller Types
Couples, Families
Rank
20 out of 30 attractions in Kanchipuram
Vaikunda Perumal Temple
One of the 108 divya desams, the Ulagalantha Temple is dedicated to Lord Vishnu. The temple is also known as Thiru Ooragam and here Lord Vishnu is worshipped in the form of Lord Vamana. The temple is very close to the Kamakshi Aman Temple. This is an ancient temple which dates back much before the rule of the Pandyas and Cholas. The 11 storey tower of this temple is one of the largest among all the Divya Desams and the 20 ft tall idol of Lord Trivikrama is majestic. The idol is in a standing posture with his right leg lifted and touching his left leg in a right angle. He holds a lotus in one hand and a conch in another. The legend says that once a Lord Vishnu visited the house of the powerful and arrogant Mahabali Chakravarthy. Happy with his presence he asked the vamana what he would want in alms and the Lord says he needed nothing but three ft space. To this Mahabali laughed and ordered him to go ahead. Suddenly the little dwarf extended himself in height and might and put forward his first step to cover the whole land of the earth and with his second step he covered the skies. When he inquired about where he should put his third step, Chakravarthy gave down his head for the Lord to step on it.
Places to stay near
Vaikunda Perumal Temple
Regency Kanchipuram by GRT Hotels
Hotel Nalaas Aappakadi-Kanchipuram
Reviews of
Vaikunda Perumal Temple
•
1
The shrine where Lord Vishnu stands with his two feet conquering the Earth and the skies.
Attractions near
Vaikunda Perumal Temple