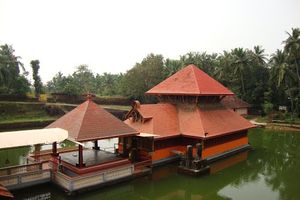 Best Months
September - May
Rank
2 out of 24 attractions in Kasaragod
Ananthapura Lake Temple
This is the only temple or the only lake temple which is dedicated to Anandapadmanabha except the one which is Ananthapura very close to Kasaragod. This is a beautiful temple in the middle of a rectangular lake and also a grassland. The temple is dedicated to the worship of Lord Vishnu who rests on the Ananthanaga. The temple is in the middle of the lake which signifies the fact that Lord Vishnu is the ultimate reality. He is also said to be resting here on the Kshir sagar or the Ocean of Milk to symbolise the never ending creation capability of the god. The Lake here is a representation of the Ksir Sagar. The unique part of this temple is that the idol inside is not made up of any single item but of a combination of more than 40 materials. There is also an auspicious temple crocodile inside the lake.
Places to stay near
Ananthapura Lake Temple
Reviews of
Ananthapura Lake Temple
•
2
The Ananthapura Lake Temple is the only lake temple in Kerala. Believed to be the original seat of Anantha Padmanabha Swami, pilgrims from Kerala and Karnataka both flock here on a daily basis. The most interesting part about this temple, however is outside it – the vegetarian crocodile! Yes, there is a single crocodile that resides in the lake surrounding the temple and he only eats rice and jaggery. He doesn't consume any sort of meat and is considered harmless. And according to local legends, when the crocodile dies, it is miraculously replaced by another crocodile from nowhere!
This temple is located around 30 kms from the Bekal Fort. Built in the 9th century, it is the only lake temple in Kerala. It is surrounded by the Ananthapura Lake and the only way in is through a bridge. The temple is very serene to spend time in. Another attraction here is a Crocodile that is said to be around 150 years old. This is one of the few South Indian temples that is open to people of all castes. It is a very modest looking temple with greenery around. There is also a small Ganesha temple near the gate that is worth a stop.
Attractions near
Ananthapura Lake Temple