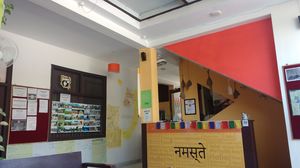 Open hours
9 am to 5 pm throughout the week, except on Friday when the museum is closed.
Things to do
Make use of the paid guide facility and the touch screen kiosks that provide information about the items that are on display.
Budget
Children below the age of 15 can enter this museum free of cost while INR 5.00 is charged for adults.
Traveller Types
Couples, Families, Friends
Rank
17 out of 41 attractions in Khajuraho
Archaeological Museum Khajuraho
A decision in the year 1905 was taken by the then government of India to display and preserves the precious artifacts and items found at the excavations at Sarnath. This led to the birth of a site museum at Sarnath that is considered to be the oldest in the fold of the Archeological Survey of India. The brain child of the Director General of Archeology at that period, Sir John Marshall and executed by James Ransome who was the Consulting Architect, the Archeological Museum was inaugurated in 1910 and houses five large galleries and two verandahs that display the items. The museum also has a coffee shop for one to grab a quick bite. Wheelchairs and ramps are provided to help the specially-able people navigate through the museum.
Places to stay near
Archaeological Museum Khajuraho
Friends in Khajuraho; Krishna Room
Friends in Khajuraho; Peacock Room
Reviews of
Archaeological Museum Khajuraho
•
1
This small historical museum is located very close to the western group of temples. You can see a wide variety of sculptures and paintings here; some are broken though. However, you don't need to pay any separate entry fee to see this museum as the same ticket that is sold for western group covers the entry fee for this too. Please note that photography is not permitted inside.Where to stay?
Attractions near
Archaeological Museum Khajuraho