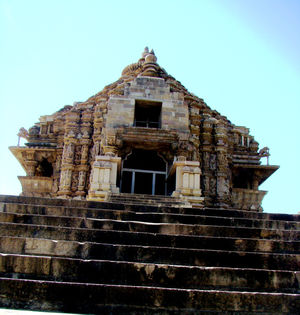 Things to do
history tours
Traveller Types
Couples, Families
Rank
25 out of 41 attractions in Khajuraho
Brahma Temple
A temple situated on the banks of the beautiful Khajur River, there are still no evidences as to when this temple was built. The temple is at present almost in ruins but whatever little is left of it looks awesome till date. The hude idols and temple designs are an evidence of very early styles of temple art and designing. There is no mandap here and there are no evidences if there were any earlier on. Apart from the idol of Lord Brahma there are also a number of idols of Lord Shiva. This contradiction in the name and number majority of idols often leaves tpurists and even historians in a great confusion. The confusion is that whether this temple was actually a Brahma Temple or was it a Shiva Temple with an idol of Lord Brahma established inside it.
Places to stay near
Brahma Temple
Friends in Khajuraho; Krishna Room
Friends in Khajuraho; Peacock Room
Reviews •
1
This temple is shut now and no visitors can visit inside. On either sides of the entry you can see streams of Ganga and Yamuna.
Attractions near
Brahma Temple