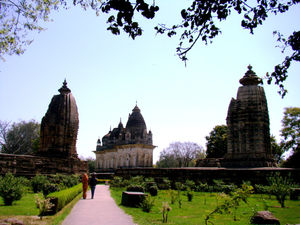 Best time to visit
8:00 AM - 2:00 PM
Open hours
6:00 AM- 6:00 PM
Things to do
history tours
Budget
Rs 10 for Indians, Rs 250 for foreigners, free for children below 15 years
Traveller Types
Friends, Couples, Families, Solo
Rank
12 out of 41 attractions in Khajuraho
Chitragupta Temple
Placed between the Vishwanath and Kandariya Temples of the Khajuraho Temple Complex, this is the only temple which is dedicated to the Surya God or the Sun God. This temple is a little away from the Jagadambi Temple but resembles it in many ways. The temple is square based in form and has camouflaged designs to make it look bigger and layered. The octagonal ceiling still has the remains of exquisite carvings and designs and the pillars are equally beautiful. Inside the temple you will see the idol of the Sun God in a standing position on a chariot which is being driven by 7 horses. The 11- headed idol of Lord Vishnu is also very popular attraction here. This temple is not as popular as the rest but is definitely worth a lot more recognition.
Places to stay near
Chitragupta Temple
Friends in Khajuraho; Krishna Room
Friends in Khajuraho; Peacock Room
Reviews of
Chitragupta Temple
•
1
Dedicated to the Sun God (Surya Dev) this temple faces east, the side of rising sun. A five feet high image the deity is their in the inner sanctum on a driving a horse-drawn chariot. This temple is where most of the dance performances take place for the Khajuraho Dance Festival.
Attractions near
Chitragupta Temple