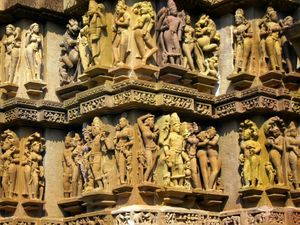 Best time to visit
8:00 AM - 2:00 PM
Open hours
6:00 AM- 6:00 PM
Things to do
history tours
Budget
Rs 10 for Indians and Rs 250 for foreigners
Best Months
September - May
Traveller Types
Couples, Friends, Families
Rank
3 out of 41 attractions in Khajuraho
Lakshmana Temple
The Lakshmana Temple is one of the three biggest temples of the whole temple complex of Khajuraho and belongs to the western group of temples. This temple stands like a mountain among all other over here and is dedicated to Lord Vishnu. The temple is mainly known for its grandeur and the variety of carvings on it. If you take a clockwise round around the temple, the carvings will seem to be opening like a scroll of awesome stories. The temple dates back to the reign of the Chandela King Varahavarmana and it faces the Varaha and the Devi Temples. The scenes from court life, romance between men and women, motifs of plants and animals and carvings of erotic rituals are common when you see the temple walls closely. There is a flight of stairs which you will have tp climb up to reach the main mandap of the temple.
Places to stay near
Lakshmana Temple
Friends in Khajuraho; Krishna Room
Friends in Khajuraho; Peacock Room
Reviews of
Lakshmana Temple
•
1
A grand temple built on a high platform, four shrines at the four corners. The main temple is at the centre and at the entrance near the steps you see sculpture of a man Man fighting a Lion- a symbol of the Chandela dynasty. A dancing Ganesha with musicians at his feet is placed on the South East side of the temple. Sculpture of Apsaras, maiden, women washing her hair and more adorn the temple wall. With fantastic detailing the sculptures are made with every detail. The sanctum includes a statue Durga killing Mahishasur. The main idol is that of Vishnu, and the idol has three leads and four hands. Another fascination of the Lakshmana temple is the roof of the temple which is also known as ardha mandapa. The roof lotus motifs with four concentric groups while the support beams.
Attractions near
Lakshmana Temple