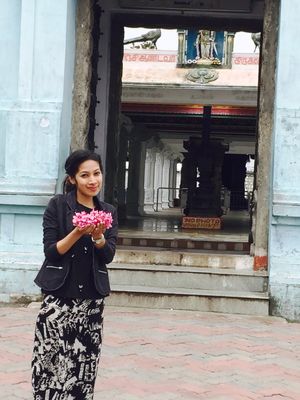 Rank
4 out of 34 attractions in Kodaikanal
Kurinji Andavar Temple
Located close to the Chettiyar Park, this is an old temple dedicated to Lord Murugan. Lord Murugan is the common deity worshipped here and in this temple he is known as Lord Kurinji Andavar. Kurinji or Neelakurinji is the flower which grows here once in 12 years and this is after which the name of the deity is given. Other than the idol of Lord Kurinji, you will also get the idols of the 9 Planet gods or the Navagraha in this temple. The temple is on top of a hill and from here the view of the surroundings, especially the Palani Hills is awesome.
Places to stay near
Kurinji Andavar Temple
Reviews •
3
and after which a visit to Kurinji Andavar Temple as a trip is never completed without visiting a religious place and temple was worth visiting.
Amazing breakfast to start the day again. We checked out from the hotel and headed towards the main city. We planned not to take cab on the 3rd day as all the places we wanted to go where nearby. We started walking from the hotel and for the directions we had Google offline Map. Kodaikanal seemed much more beautiful when we explored by walking.Places visited : kurinji andavar temple, chettiar park,bryant park,kodaikanal market,boating in kodaikanal lake,coaker's walk again.Must try places to eat : Lunch at Astoria veg restaurant, pastry corner( ice cream and butter cake,woodlands hilltop.Place to stay : kodai sunshine hotel at chettiar road.The trip was indeed a memorable one. Few things which made it more were the perfect pleasant weather,the taxi drivers for both the days and the hotel staff at kodai sunshine hotel. A weekend well spent. Cheers !!!
Hills, trees, forest.. and amidst them a beautiful temple.. What else we can expect! Not to forget the beautiful handicraft shops that just got me awestruck.
Attractions near
Kurinji Andavar Temple