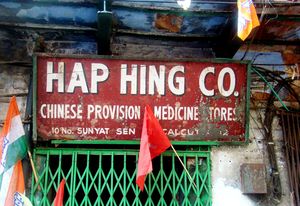 Best time to visit
any time in Kolkata
Open hours
11:00 AM-8:00 PM
Things to do
Indulge in Shopping
Hap Hing Company
Hap Hing Company also known as Hap Hing Co is an old provisional store that caters to all the Chinese requirements. The place was opened up in 1934 by Stela Chen with the aim of providing authentic Chinese taste and food products that was amiss in Kolkata at that time. This place is still renowned for these products not only among the Chinese people residing in the city but also those who are visiting Kolkata for the first time. Starting from homemade Chinese sauces to tea and from noodles to Chinese medicines, there is a whole lot of items that you can depend on this place for. Other items that one requires in the day to day activities is also available here at cheap rates.
Places to stay near
Hap Hing Company
OYO Rooms Park Circus Bangladesh Embassy
Reviews of
Hap Hing Company
•
1
Not to forget that visit to this market is incomplete without hopping into Hap Hing Co, a Chinese provisional opened in 1934 now run by Stela Chen ( she emphasises it's Chen the Hakka way not Chan the Cantonese way) store sells an assortment of products that include authentic Chinese style homemade sauce, noodles, tea, medicines as well as other products of day-to-day necessity.
Attractions near
Hap Hing Company