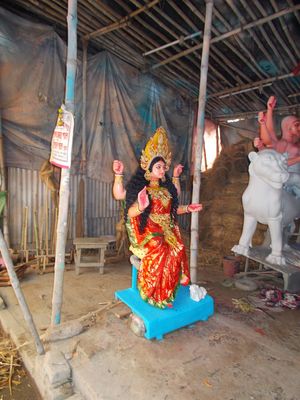 Traveller Types
Solo, Friends
Rank
17 out of 60 attractions in Kolkata
Kumartuli
As you walk a little from Shovabazar Ghat of River Hooghly or from the west gate of the Shovabazar metro Station towards the Rabindra Sarani Lane, you will come across the Kumartuli. This is a place where a number of Kumars or potters are always busy with their work of designing and sculpting huge statues of Gods and Goddesses which are later used for the festivals of the city. The most common are the statues of Goddess Durga here. Initially clay and straw are used to form the figures and then they are spray painted. The original material used are the marrows of the banana trees but now many other materials are being used in making these idols. Later, the idols are dressed in fine attires and are ready to be sent to the pandals for being worshipped.
Places to stay near
Kumartuli
❤️of the City,Wifi,TV,AC,Balcony!
Top location, great views, AC+WiFi!
Private Flat in Central Location
T's:Room & garden in city center 1
Reviews of
Kumartuli
•
12
Attractions near
Kumartuli