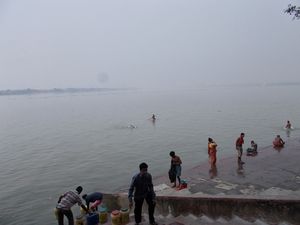 Nimtala Ghat Street
The Nimtala Burning Ghat or Nimtala Crematorium was set up in the year 1857 in the Beadon Street. This is an ordinary crematorium which is made famous due to the Memorial built for Rabindranath Tagore after his death. Tagore was cremated in this ghat.
Places to stay near
Nimtala Ghat Street
Sunny, Family-friendly, private
Central location; comfy room!
Pocket Friendly Room Near EM Bypass
Reviews of
Nimtala Ghat Street
•
1
This was founded in the year 1827 and great personalities like Rabindranath Tagore, Manik Bandopadhyay and many more had their last rites carried out here.I realized that in these busy streets also lies a place where a journey of a life ends passing on to a next journey of life again.
Attractions near
Nimtala Ghat Street