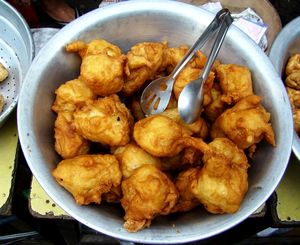 Things to do
City tours, eat
Sun Yat Sen Street
If you are in Kolkata and still haven't taste the sea food you get in the Tiretti Bazaar, then you should rush today only. The Sun Yat Sen Street in the Tiretti Market Area is where you get the best and most authentic seafood. This street was made famous by the Chinese who came and settled here mainly for business purpose. You will enjoy this place at its best during an early morning walk when the street is lined with vendors selling authentic Chinese dim sums and steaming soups which are so light to the palette yet so flavorful. These piping delicacies during foggy winter mornings give the perfect start of a lazy day.
Places to stay near
Sun Yat Sen Street
OYO 1238 near Park Circus
Reviews of
Sun Yat Sen Street
•
1
I decided to explore this place with my friends and cousins and the Sun Yat Sen Road (named after one of the greatest leaders of modern China), near Poddar Court, is more like a local farmer's market of sorts with fresh catch, vegetables on either side of this small narrow street.
Attractions near
Sun Yat Sen Street