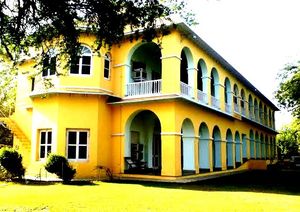 Best time to visit
When in Kota
Things to do
Hotel, Hunted Place
Brijraj Bhawan
Brijraj Bhawan is a luxury hotel well known for their hunted stories.
Places to stay near
Brijraj Bhawan
First hotel of kotah city
OYO 865 Hotel Celebrations
Reviews of
Brijraj Bhawan
•
1
The story behind the haunting of Brijraj Bhawan is gruesome. Major Burton and his two sons were killed during the 1867 mutiny, and it's said that he never left Brijraj Bhawan. According to the former Queen of Kota, who used the room where he was killed as her drawing room, he was a fairly frequent companion. But he doesn't seem to harbour thoughts of bloodthirsty revenge – he just has a way of slapping guards who fall asleep on duty at night. Brijraj Bhawan has been turned into a heritage hotel, so if you fancy checking this out yourself, you could simply check in.
Attractions near
Brijraj Bhawan