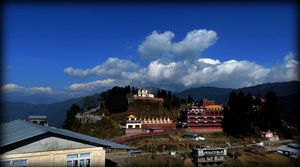 Things to do
Tours, photography, meditation
Lava Road
Lava is an entry to the Neora Valley National Park in Kalimpong and is a favorite of the tourists of West Bengal. The Lava Monastery is a major reason of the tourist footfall here. There is a statue of the Buddha here and the Tibetian Monks are settled over here. You will find immense peace here and thus refresh yourself before you can restart your day. In the National Park, you find animals such as black bears, Barking deer and other flora varieties as well. The waterfalls around this place look very beautiful too.
Places to stay near
Lava Road
Live Away Home 2 - Kalimpong
Live Away Home 1 - Kalimpong
Reviews of
Lava Road
•
2
Zero Point to Lava, 12 kmToday is the last day of the trek. The trail is a descending one. Within one and a half hour of the trek, you will reach the Chaudapheri Camp. This is also a beautiful place with a beautiful resort and trekkers' hut. If you do not want to stay at the Zero Point the previous day, you can come down here for better accommodation option. The Chaudapheri Camp is 5 km from the Zero Point.Trek for another 7 km to reach Lava, the beautiful hamlet at the Kalimpong region. From Lava, you can take a car to Siliguri.
One of the only places in West Bengal that receive snow during winter. The idyllic green forests around Lava are ideal for picnics, trekking and bird watching. The road to Lava is untouched by modern life and tourists will find rustic hamlets whose inhabitants lead lives that have not changed for centuries. Wild animals such as the Himalayan bear and the barking deer are found in these parts. A Buddhist monastery is also located on one of the hills of Lava. Neora Valley National Park is located here which is famous for the Red Panda.
Attractions near
Lava Road