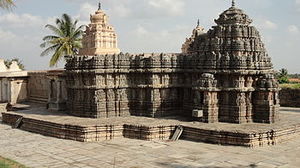 Best time to visit
October to February
Open hours
4.00 am to 9.30 pm
Things to do
Exploring, Photography
Lakshmi Narasimha Temple
The Lakshmi Narasimhar Temple can be found around 55 km from Chennai and 21 km from Arakkonam, in Narasingapuram, Thiruvallur. From the times of grandeur and glory that existed in South India. The sanctuary of Lakhsmi Narasimha at Narasingapuram still gloats the period of Cholas and Vijayanagara Rayas. The Lakshmi Narasimha Temple is arranged in the town of Narasingapuram accepted to be named after the temple. There are around of 14 engravings in and around the sanctuary in which two of them have a place with the Chola period. Also, this stands as a prove that the sanctuary even survived the Saivism wave that produced results under the Cholas in the early period like numerous other vital Vaishnavite sanctuaries that survived it in South India in the early period. All these engravings are in Sanscritised Telugu which is still a nearby dialect winning in the encompassing regions of Narasingapuram.
Places to stay near
Lakshmi Narasimha Temple
White Elephant Restaurant and Guesthouse
Reviews of
Lakshmi Narasimha Temple
•
2
this will come on the way once you started and now all the Places connected. after riding up to some km. you will reach to.
By entering inside the enclosure, one can see the land of Lakshmi on Narasimha's back with her fingers, nails and rings, all beautifully sculptured. At present the idol of Goddess Lakshmi has been kept at Kamalapura Museum. However, the idol of Narasimha with bulging eyes and delineated mane still attracts a majority of tourists. The idols of Lord Narasimha and Goddess Lakshmi were carved out from a single boulder. Also known as the Ugra Narasimha, the original structure had his consort Lakshmi sitting on his lap. Now only the hand of Lakshmi can be seen attached to Narasimha at the back. The statue of Lakshmi was damaged during enemy invasion.
Attractions near
Lakshmi Narasimha Temple