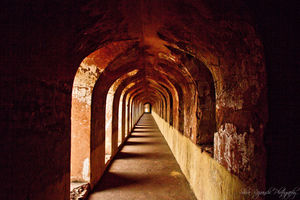 Best time to visit
8:00 AM - 3:00 PM
Open hours
6:00 AM - 6:00 PM
Things to do
history tours
Budget
For 2 adults- INR 35, Foreigners (per person)- INR 300
Bhool Bhulaiyaa
A part of the Bada Imambara or the Asafi Imambada, this is a labyrinth structure inside this monument. The Bada Imambada was built by Asaf- ud- Daulah, the Nawab of Awadh. An imambada is a shrine structure which is usually built by the Shia Muslims for the Azadari purpose. This labyrinth structure was made mainly to confuse enemies if they ever tried to attack the devotees during the time of their prayer.
Places to stay near
Bhool Bhulaiyaa
Explore the city of Lucknow
In the bustling Industrial Part!
Reviews of
Bhool Bhulaiyaa
•
8
Attractions near
Bhool Bhulaiyaa