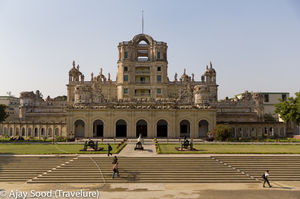 Things to do
educational institutions
Traveller Types
Families, Friends
Rank
9 out of 73 attractions in Lucknow
La Martiniere College
This is a very old college in the city of Lucknow which was established by the British during the British Ra in India. This is till now an extremely notable educational institution and a pride for the modern society parents. They have successfully maintained the glamour and grandeur of this college which is now divided into schools and boasts of have trained many a prominent personalities. You are allowed to enter the school boundaries for the tours but whatever the guide tells you is all true even i some things sound exaggerated about this school. They also have horse riding and other such activities as a part of school activities which is not much seen in Indian schools.
Places to stay near
La Martiniere College
Treebo Stay Inn International
Reviews •
2
The site formerly known as the Constantia House is now housed by the La Martinière College. The building is located on a terraced location which was a lake at some point. The architecture is mixed style that combines various techniques of Italian architecture. The college is one of the only educational institutions to receive a battle honor due to its role during the Seige of Lucknow.
Our meanderings also took us to La Martiniere College. This magnificent institution's centrepiece is 'Constantia' which was a palace earlier. This imposing building has statues of 2 lions flanking its edifice, and it faces the 'Laat' – a fluted column that was once in the middle of a lake.
Attractions near
La Martiniere College