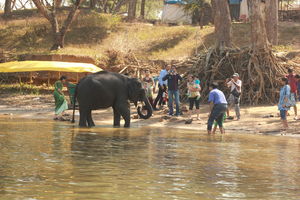 Best time to visit
7:00 AM - 9:00 PM
Open hours
Unable to verify
Things to do
camp tours, photography
Dubare Elephant Camp
This elephant camp has about 30- 40 elephants which are bought for bathing to the river in the morning. This is when you can take turns to wash and brush these elephants and jumbos and also click photos with them. The only criterial is that you need to reach the spot before 9:30 AM in the morning or after 5:00 PM in the evening. These are the time when you get this place a little less crowded as otherwise the queue is usually too long to end.
Places to stay near
Dubare Elephant Camp
holidayincoorg Orchid villa
ECONOMY CLASS-A FAMILY HOMESTAY
Ashirwad Compact. Scenic & Centric
Reviews of
Dubare Elephant Camp
•
1
The third site on our list , 30 KM from the town , Dubarey does not fail to surprise the human kind owing to its magnificent elephant camp and river Cauvery that flows across the dense forests. The camp is separated from the main land by a small river tributary which can be crossed by a boat to witness the amazing scene of mighty elephants bathing in the river , splashing water around and entertaining the tourists who stand at a distance with their mouths agape. We took an elephant ride and couple of selfies holding on to the elephant tusks with the mahout sitting on the elephant top. One can see the rearing of elephants and if you can convince the mahout , you can feed the elephant too !
Attractions near
Dubare Elephant Camp