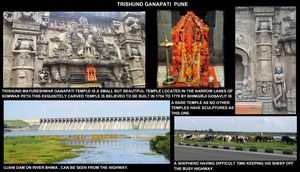 Varad Vinayak Ganpati Mandir
This temple is located in Mahad in Raigad District of Maharashtra. It is a part of the famous Ashtavinayaka Circuit. According to Mythology, Prince Rukmangad died due to a curse of Mukunda. After Mukunda and Lord Indra came to know about this, they curse him. In turn Mukunda curse his son Grutsamand to bear an evil son and this son was the demon Tripurasura. Grutsamand worshipped Lord Ganesha and the same Ganesha is placed in Varada here. The temple faces the east and devotees are allowed here to worship alone one at a time too.
Places to stay near
Varad Vinayak Ganpati Mandir
Reviews of
Varad Vinayak Ganpati Mandir
•
2
Another of the ashtvinayak temple that we visited enroute our journey. Is has beautiful complex where we stalled for a while before leaving again to cover the road ahead.
VARAD VINAYAK IS ONE OF THE ASHTAVINAYAK TEMPLES .IT IS LOCATED IN THE MAHAD VILLAGE OF KARJAT.THIS IS THE ONLY TEMPLE WHERE DEVOTEES ARE ALLOWED TO PERSONALLY PAY THEIR HOMAGE AND RESPECTS TO THE IDOL.THEY ARE ALLOWED IN THE IMMEDIATE VICINITY OF THE IDOL TO PERFORM THEIR PRAYERS.
Attractions near
Varad Vinayak Ganpati Mandir