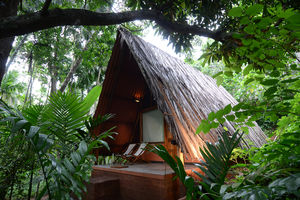 Best time to visit
Across the year
Things to do
Natrure site seeing, nature place to stay
Budget
Its vary from INR 500/- to INR 5000/-
Maachli
Maachli Cottages house remain, located in beautiful community Parule, on Konkan Coast and in Sindhudurg region of Maharashtra, offers notion of paying time in nature. The Maachli Cottages are conceptualized as Maachli which will be Malvani expression for huts produced on heights to guard the crop. While enjoying rich greenery at Maachli, beach lovers may also visit numerous shores as 'Maachli house remain'is situated at around 15 minutes travel from number of perfect beaches.
Places to stay near
Maachli
The coconut Palms Bhogwe Maharastra
Reviews of
Maachli
•
3
Once you reach Malvan, you can ask around for the Maachli Farmstay or even follow the route recommended by Google Maps.You can refer to this trip to learn more about the Malvan area.Why should you visit?
The rooms! The food! The people! So warm :)
Maachli is one divine homestay. Situated in Parule village on the Konkan Coast of Maharashtra, the name "Maachli" means "elevated huts" in the local Malvani language and that's exactly what to expect with a twist- four attractive hut-style accommodations built deep within nature, amongst the Samant family's coconut, betel nut, banana and spice plantations! Take time off and hide in one of Maachli's 'huts' to take yourself to a tropical paradise away from all chaos of the cities. The plantation is a few minutes away from a number of pristine beaches and the walk to those will be equally rejuvenating. The host family believes in responsible tourism, they love nature and they value their time on the plantation- more than anything. So you'll surely get some fresh farm food, cooking lessons, long walks while you share experiences and a bonus of a cool sweet water stream flowing right through their property!