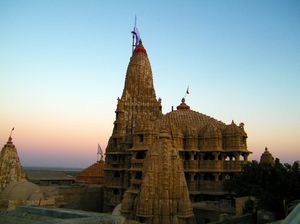 Best time to visit
All round the year.
Open hours
Every day of the week from 7:00 am to 12:30 pm and then from 5:00 pm to 9:30 pm.
Things to do
Pay a visit to Beyt Dwarka when done with the temple.
Dwarkadish Temple
Quite famous all across the globe as the abode of the Lord of Dwarka, this temple is also known as Jagat Mandir and is said to have been constructed around 1400 years ago. The place houses an image of Lord Krishna and is now an important pilgrimage spot for Hindus. The temples comprise of five floors that are supported by over 60 columns. The temple is filled with carvings right from the ceiling to the floor and it is made out of sandstone. Al the traditional guidelines have been followed in the construction of this magnificent temple in the state of Gujarat.
Reviews of
Dwarkadish Temple
•
1
Hopping from one temple to another, Dwarkadish is a splendid temple with full of lighting arraignments. The 'Shayan Aarti' takes place at 08:30 PM & the temple closes at 09:00 PM. A panditji arranges a velvet bed with 3 pillows on either side. The temple resounds with the chanting of "Hare Krishna, Jai Jai Krishna" It is also known as the Jagat Mandir.
Attractions near
Dwarkadish Temple