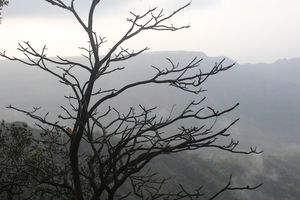 Things to do
Walking, photography
Traveller Types
Couples, Families
Rank
6 out of 20 attractions in Matheran
Alexander Point
Unlike most of the other lookout points, this point is at a close proximity from where tourist resorts are and thus easy to reach early in the morning. Early mornings are the best time to enjoy the enchanting beauty of the sceneries around and also go for a walk along the thick greenery starting from Bombay House. The fresh air and green views are sure not only to impress you but cure you of all stress that you cane here with. Alexander Point is a clean and beautiful place and thus a personal favorite of many.
Reviews of
Alexander Point
•
3
After Walking through the Woods., it was funny when my friend asked Who was Alexander? And the answered, " He was Student from Xavier's who came here for holidays". About This Point; It's located in the woods with a perfect view of the Valley, and Rambaug Point towards the Right. Nature had taken a shower when we reached and showing off itself with the wind.
This place is good enough for sunset and sunrise view. One gets to get the view of almost all that there is to see in matheran, mainly, the lakes, the dam, borgaon etc. Trekking or horse riding is the only two ways to get there.
This point in Matheran is absolutely beautiful and enjoyable for nature lovers. It is a 15 minute walk from the main street of Matheran but the scenery visible at the point is just worth the walk.
Attractions near
Alexander Point