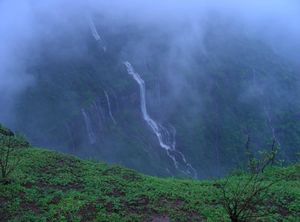 Traveller Types
Couples, Families, Friends
Rank
11 out of 20 attractions in Matheran
King George Point
Considered as one of the best view points, this is a place with some good background though its far from the market. The King George Point is situated between the Echo Point and the Lake and thus a popular place. You can come here for some nature photography as the background includes the lake and some valleys with rolling greenery.
Places to stay near
King George Point
The Parsi Manor at Matheran
Reviews of
King George Point
•
1
King George Point provides a view of the lake below and small waterfalls from the water overflowing from Charlotte lake. The far off mountain provides a bracket view. Next to the King George Point is the Edward Point which also provides view of small waterfalls and a bird's eye view of Luisa Point. The access to these points in muddy and slippery in rainy season. The vantage point offers a panoramic view of nearby valleys and the placid Charlotte Lake. The best time to visit this viewpoint is during monsoons when the lake overflows and forms several small waterfalls in the region. The viewpoint is ideal for nature lovers as they can spend hours adoring the vistas and soaking in the tranquility.
Attractions near
King George Point