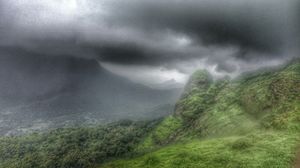 Traveller Types
Friends, Couples
Rank
10 out of 20 attractions in Matheran
Little Chowk Point
Chowk Point is well known tourist attraction place, famous for nature sight vewing.
Places to stay near
Little Chowk Point
Reviews of
Little Chowk Point
•
2
With winds flowing at such a speed that my wet clothes had dried off. With No Homo Sapiens this point had everything. Perfect View of the Valley to the Left, One Tree Hill point to the Right and to forget the Climbing Waterfall. It was all possible as this Point dint have a proper sign outside it and it seemed as if the way led to some private property. So you might miss this point.
Clouds had their wrath on me, and cos of which i had to Wear my Windcheater and enjoy the view with rain as my Company. At this point I met a German Traveler. From the short Conversation which I had with him, i came to know that he was Doing internship in Mumbai and had come Alone over here. As per his point of View Mumbai was Different. The Best Part of this Point that had a impact was a Cutting Chai (Half glass Tea) that i had during the Rain. At this point we made friendship with the man's Best friend who accompanied us up to the One Tree Hill Point.
Attractions near
Little Chowk Point