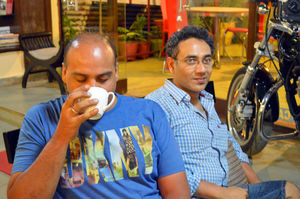 Best time to visit
This café should be visited whenever one is in Mount Abu.
Open hours
The café remains open all through the week from 8:00 am to 11:00 pm.
Things to do
Forget your diet and simply pile of the calories here.
Budget
For two people to eat here, the minimum one would need to pay is about INR 200.00
CAFE SHIKIBO
For a taste of all things European, Café Shikibo in Mount Abu is the place to be at. The café is considered to be 'the haunt' and is visited by many locals and tourists too. The ambiance of the place is cozy and one will see quite a few people engrossed in a conversation here while sipping on cups of coffee and gorging on some lip-smacking delights. Some of the crowd favorites include their cappuccino, iced mocha coffee and a range of iced drinks. When it comes to snacks, their hash browns, grilled burgers, muffins, onion rings, and waffles are simply to die for.
Places to stay near
CAFE SHIKIBO
Hotel Good Luck Residency
Reviews of
CAFE SHIKIBO
•
1
This is a biker style cafe, well done up place albeit a little out of place in the simplicity of Mount Abu. The management fares highly on the hospitality. However the orange coffee, hot chocolate and black forest cake that we ordered left a lot to be desired. Nonetheless the peaceful environment gave us the opportunity for sitting and typing some of our blog. Tip: Enjoy the place for what it has to offer but do not compare it with joints in Delhi.
Attractions near
CAFE SHIKIBO