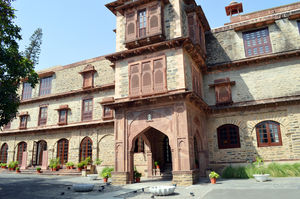 Best time to visit
Whenever you visit Mount Abu and wish to spend the vacation here lavishly.
Open hours
Check out time here is 12 noon.
Things to do
Experience royalty here at the Hotel.
Budget
The price of the rooms here starts at INR 7500.00 and go upwards depending on one's choice of room.
Palace Hotel Bikaner House
It was the Council of Regency that saw the construction of this hotel in the year 1893. The Palace Hotel was designed by Sir Swinton Jacob who happened to be an eminent architect at that point in time when the British ruled India. It was later in 1962 that Maharaja Karni Singhji decided to turn this residence into a fine hotel. The hotel now has 33 rooms, each one different from the other. The place has two tennis courts, a billiards room and allows one to play indoor games like table tennis, chess, etc. One can also make use of the 150 seater conference room for meetings or gatherings. Some of the facilities provided include a private lake that can be used by the guests who stay at the hotel, a doctor on call, a front desk that provided information a and help round the clock and a restaurant that serves delectable dishes.
Places to stay near
Palace Hotel Bikaner House
Hotel Good Luck Residency
Reviews •
1
Bikaner House, on the outskirts of Mount Abu, is a beautiful property in the style of Rajasthan haveli. The place is surrounded with well maintained gardens and a lotus tank. We wanted to have a late lunch but given that lunchtime was over, we had to make do with tea and mixed pakoras. This turned out to be a very delectable experience after all since both the tea and pakoras were very tasty.
Attractions near
Palace Hotel Bikaner House