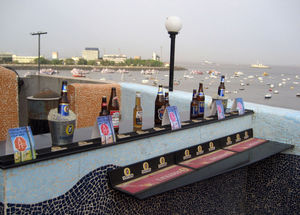 Best time to visit
11:00 AM - 2:00 PM
Bayview Roof Top Restaurant
This is a popular rooftop cafe cum restaurant in the city of Mumbai. The main attraction here are the awesome views of the Arabian Sea. They do not have a parking of their own so pay and park is the only option. Then you see the building and go to the 4th floor where this restaurant is. It is a simple non AC restaurant yet a favorite of many due to the very comfortable atmosphere and friendly staff. They do have a shamiana for rain protection on top and the food is all star absolutely. They serve vegetarian and non- vegetarian food and alcohol too.
Places to stay near
Bayview Roof Top Restaurant
Traveller's Inn Hotel - Fort
Hotel A. K. International
1 Private Ac Bed Room + Kitchen + Wi Fi
Reviews of
Bayview Roof Top Restaurant
•
1
UQ: 4 For those who want the same view as the Taj at one twentieth the cost, this open air restaurant perched on the rooftop of Strand Hotel is a good no-frills option. With a spectacular view of the Gateway of India against the backdrop of flickering lights and the fishing boats in the Arabian sea, it's probably the only roof top restaurant in Bombay that doesn't cost a bomb, is absolutely laid back and in-tune with Bombay's chilled out attitude. It amazes me that in spite of Bombay being a coastal city, there are barely any restaurants that allow you to enjoy the sea-breeze. When compared to the likes of Aer and Dome located on the roof tops of snazzy 5 stars hotels, Bayview wins hand down for its simplicity, practicality and affordability.
Attractions near
Bayview Roof Top Restaurant