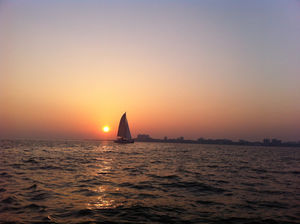 Best time to visit
Across the year
Things to do
Hire a boat for sailing
Gateway Sailing Club
Gateway Sailing Club is sailboat provider on rent in Mumbai for sailing. They also offers short and long term sailing courses.
Reviews of
Gateway Sailing Club
•
1
Rent a beautiful sail boat and go sailing with your friends / family. You can't have lived in the city and not experienced a sailor's life. Pre-booking is advised. You can learn the basics of sailing or just sit back and watch the sun setting into the Arabian Sea, away from the maddening crowd and noise. The sound of waves gently lapping against your sailboat is just out of this world. When you watch the flickering lights of Bombay from a distance, you can't help but fall in love with the city. Once you are back at the dock, treat yourself to some good food and beer in Colaba. Cost: Rs. 3499 (sailboat rental for max 4 people) Hours Spent: 3+ easily, considering you will stop for a bite somewhere afterwards.
Attractions near
Gateway Sailing Club