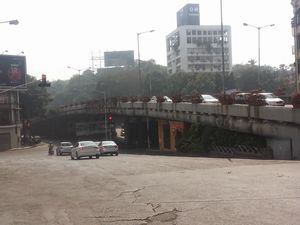 Best time to visit
24 Hrs.
Things to do
City road trip
Hughes Road
Hughes Road is an arterial road in South Mumbai linking Opera House with Kemps Corner. It is flanked by Hanging Gardens of Mumbai and the Towers of Silence on one side and the Porsche showroom, New Era School, RTI and Westside on the other.
Places to stay near
Hughes Road
5 STAR 'WIFI ' MILKYWAY AC ' 2 BED @ SOUTH MUMBAI
5 STAR ' WIFI ' 'GALAXY' AC' 2 BEDs @ SOUTH MUMBAI
5 STAR ' WIFI ' & 'SHARING 'AC' ROOM @SOUTH MUMBAI
7 STAR 'WIFI 'PRIVATE AC ROOM' 2 BED@ SOUTH MUMBAI
Cozy studio with a view to the sea!
Reviews of
Hughes Road
•
1
2:10pm - Hughes Flyover: I have finally reached the second last destination of this journey. The Hughes flyover will lead me straight to Marine Drive. Legs are giving way, but I feel like running all the way to the end.
Attractions near
Hughes Road