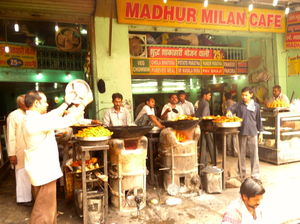 Madhur Milan
This is a local rstaurant and café for some nice traditional food that Benaras is known for. The Kachori Sabzi, samosa, jalebis and other south Indian food are well served here. The lunch thalish serve a good quantity and the prices for everything are very low. They have a good and simple seating arrangement on the upper level and this place is more airy than the ground floor. You can have some really good time out there while you eat the food and do people watching from there.
Places to stay near
Madhur Milan
Explore Globe Mumbai Homestay
Reviews of
Madhur Milan
•
1
One of the better things about traveling in India is that you can find good food at dirt cheap prices. It almost feels like a crime to have a bill so tiny after a wholesale wolfing down of yummy samosas, chai and many a snack at Madhur Milan, but there isn't much room left for guilt after a meal that size!
Attractions near
Madhur Milan