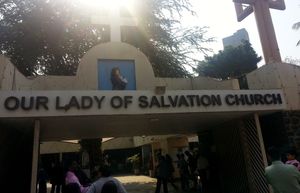 Best time to visit
24 Hrs.
Our Lady of Salvation Church
The Church of Our Lady of Salvation, popularly referred to as Portuguese Church, is one of many oldest churches in Mumbai in Dadar, it had been originally built-in 1596 by the Portuguese Franciscans who named it Nossa Senhora da Salvaçao. The current structure, designed by famous Indian architect Charles Correa, was constructed between 1974 and 1977.
Places to stay near
Our Lady of Salvation Church
A Cosy Room In A Peaceful Locality
Grand Bay Bandra Premium Serviced Apartment
Zo Rooms Dadar Railway Station
Reviews of
Our Lady of Salvation Church
•
1
12 noon - Our Lady of Salvation Church, Dadar: It is noon and the sun is right up my head. The day is getting hotter and there are still some 25 km to walk. I start to get a little weary, and I land up at the perfect place to rest. I have entered the church for taking shelter for a while. There is a choir performance by high school students. The church walls are reverberating with sweet hymns and carols, and it is, indeed, a salvation.
Attractions near
Our Lady of Salvation Church