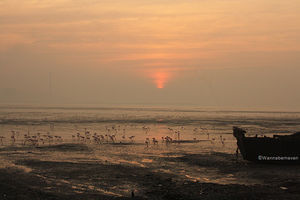 Things to do
Bird- watching
Sewri Flamingo Point
This place in Mumbai is known as the Sewri Jetty and the Mumbai Historical Society has now arranged for regular early morning bird- watching sessions for visitors here. The jetty is rough and walking till the end is a little difficult but the pink views of the flamingoes makes you forget everything else. This is also the place from where locales buy dry fish and thus you should expect this place to be smelly but then this much is bearable for the fantastic bird watching sessions. Winter is the best time to visit as flamingoes migrate till here mostlt during this time and watching them feed in flocks early in the morning will definitely make your day.
Reviews of
Sewri Flamingo Point
•
1
Nature lovers and those complaining about Mumbai's congestion have something to rejoice! Sewri – a neighbourhood towards South Mumbai, has a jetty cum dock which is home to thousands of Flamingo's from November to March. These pink feathered beauties are migratory birds that come from Siberia to the mud flats in Sewri via the Rann of Kutch in Gujarat. They are foraging for food during this period and the mucky location is conducive to them, all thanks to the surrounding mangroves. Each year flamingo's visit the jetty tucked away in Sewri east, oddly in the company of oil refineries and industrial units. The scenery is a contrasting one with thousands of flamingo's, mudflats and mangroves on a background of oil and petroleum factory silhouettes. India is home to two types of flamingo's from a total of 6 recognized around the world – the Greater Flamingo and the Lesser Flamingo. Both types can be seen at the Sewri jetty during the migratory season. Along with flamingos, other birds like the Greater Spotted Eagle, Sandpiper, Heron and Black Bellied Tern are also seen in unison.
Attractions near
Sewri Flamingo Point