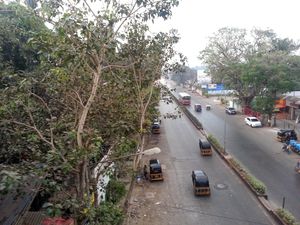 Best time to visit
24 Hrs.
SV Road
SV Road is well known as Swami Vivekanand Road, is a major arterial road in the Western Suburbs Mumbai, connects to Dahisar.
Places to stay near
SV Road
Bollywood Luxury Studio Apartment
A room for those who roam
Single room in 2BHK in JVLR (Andheri East)
Feel Like Home at Sher E Punjab Andheri East
Reviews of
SV Road
•
3
9:50am - S.V Road, way to Mahim: I'm now leaving the beautiful Bandra and walking towards Mahim, under the Western Express Highway.
9:20am - S.V Road, Bandra: As I get back on the road, I see a narrow extension beside me, leading to an idol-making shop. The shop is yet to open, outside which there are 'unfinished' Gods - the only reason why there is no crowd hustling for blessings.
7:00am - S.V. Road, Vile Parle: I've now entered the long S.V. Road, which won't leave me for another 30-35 km. The air is refreshing, and this is one those rare times when you can see the road devoid of its hustling traffic. I've climbed a sky-walk which gives a view of this road that seems to stretch (and it does!) without any dead ends soon.