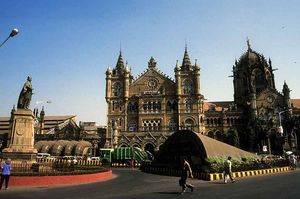 Victoria Terminus
Victoria Terminus now known as CST, This is one of the best examples of Victorian- Gothic art and architecture in India. This terminus is the main reason for Mumbai being the gothic city till today. The combination of European architecture with Indian art is the reason this station is very close to palatial designs found at many places in India. The domes, turrets, walls and the floor planning are all grand. The construction of this terminus started in 1878 and went on for around 10 years. The English architects worked hand-in-hand with Indian artisans and craftsmen to create which is till today a prized possession of Mumbai. The design is also somewhere inspired from Italian Medieval structures.
Reviews of
Victoria Terminus
•
2
Catch the iconic Deccan Queen a train with history of almost 84 Years and one of the heritage cum super fast train in fleet of trains of Indian Railways. This train has an on-board dining car a complete restaurant set up, so order food and enjoy your Meal on the Wheel.
It's good to get out and explore early as the city wakes. Choose the lifeline of Mumbai - the Indian Railways - for an early morning ride and head to South Mumbai. The ride will give you a local's perspective on everyday commute. What lies at the end of this journey is a World Heritage Site – Victoria Terminus (Officially renamed Chhatrapati Shivaji Terminus (CST) in 1998). Located in the heart of Mumbai, VT is not only one of Asia's busiest train stations but also a grand reminder of Victorian-Gothic style of Architecture in India.
Attractions near
Victoria Terminus