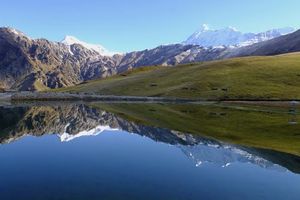 Roopkund Trek Base Camp
It is a very famous trek that begins at the base camp and takes 5days to move from 8,000ft to 16,000ft in 4days.
Reviews of
Roopkund Trek Base Camp
•
1
The day we saw the program-me in National geography named – mystery of skeleton lake, it attracted us towards that place and we decided to go there and explore the place. Well it was 16000 feet above sea level but the mystery was haunted and captivating. Roopkund Lake is the place where you dig some snow and probably you find some skeletons, to reach there we have to do trekking. We were passing through beautiful views of nature; the weather was chilling and nose was shrinking. Trekking to this place occurs thrice in a year so we selected the summer season i.e. may. When we reached there we saw that ice was melting and the skeletons were floating in the lake, the mystery behind this lake is still undiscovered but some investigations says that there is skeletons of around 300 people belonged to the people of 9th century who died due to hail storm. One more investigation reveals that they are the Japanese who died during Second World War. Leaving all these mysteries one can see the charm of the nature which god has given to this world, by visiting that place we felt that we have seen the heaven and experienced the pluck of trekking. If you want to experience some adventure in your life, then pack your bag and move to see the Roopkund Lake.
Attractions near
Roopkund Trek Base Camp