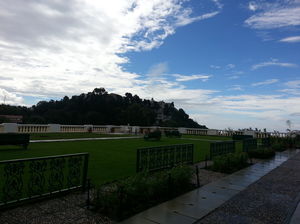 Jaypee Residency Manor
Jaypee Residency Manor in Mussoorie, India is the place your sentiment with the mountains starts. With a 360 degree stunning perspective of the powerful Himalayas, it is an incredible sight. Spread more than 9 sections of land of lavish green territory, on a ridge, this one of a kind five star choice lodging is your own heaven. The inn is a tribute to the loftiness - wonder of Mussoorie "the ruler of hills".This awe inspiring and illustrious creation dependably makes you feel at home, other than simply giving you a chance to experience a luxurious sit tight. This sumptuous lodging offers outlandish stays, sustenance flavors and a great deal more inside tranquil surroundings that are heart-winning without a doubt. So each one of those, hoping to investigate the plushness of a special inn can without much of a stretch tally upon Jaypee Residency Manor as this otherworldly creation will most likely extra to your general experience.Strategically situated at a tallness of around 7000 feet, Jaypee Residency Manor offers awesome perspectives, unbridled extravagance, and an un-interfered with experience with nature consolidated with remarkable administration.
Places to stay near
Jaypee Residency Manor
OYO 1385 Hotel Dream Palace
OYO 1688 Hotel Emerald Heights
OYO 1581 Hotel Sun n Snow
Reviews of
Jaypee Residency Manor
•
1
We went to Jaypee Mussoorie in September 2012. My parents fell in love with place on their earlier visit here with friends so they planned a relaxed family trip here. We were here for 3 days and spent almost all of the time in the resort. The approach road is beautiful and the resort is spread across a vast area. We booked two rooms which were interconnected and opened to the green terrace garden amidst the mountains. We enjoyed a lot with my sister's children at the open kiddies play area which was almost always engulfed in fog. The hotel provides a daily shuttle bus to the Mall Road and we went there for about about 2 hours (to visit Kalsang). The rooms were awesome and the food and service was great. It was a chilled out vacation and we also celebrated my nephew Anam's 5th month birthday there. There is a game cafe in the hotel where we enjoyed Bowling, Table Tennis, Air Hockey etc. The morning we were supposed to leave, we took a stroll on the walking trail that circled the entire hotel with beautiful views of the surrounding mountains.
Attractions near
Jaypee Residency Manor