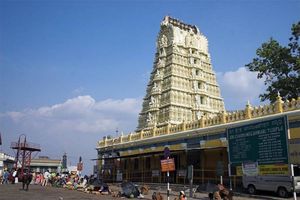 Things to do
trekking, worship, photography
Traveller Types
Families, Couples
Rank
13 out of 77 attractions in Mysore
Chamundi Hill Bull Statue
This is the highest and probably the most important landmark of Mysore. Located very close to the Tipu Sultan's Palace, this is a perfect option for adventure seekers. Hiking is a popular activity enjoyed by tourists here and the most important attraction is of course the Chamundeshwari Temple on the peak of the Hill. This place was once named Mahishapura after the name of the Buffalo Demon. He became extremely powerful with a boon that no man could kill him. He became arrogant and started torturing all the gods and goddesses. This is when all the lords of heaven decided to take the help of Goddess Shakti who then took the form of the fierce Chamundeshwari. The goddess is said to have killed the demon on this hill after which the hill was named Chamundi Hills. The region was once also named as Mahabaleshpura as the cult Deity was Lord Shiva and there is also a lovely temple dedicated to the God of Gods, Lord Shiva here. Later, when the Wodayar kings accepted Chamundeshwari as the royal goddess, the temple of Chamundeshwari temple became more popular. There is also a life size statue of Nandi, the mount of Lord Shiva. This Bull statue is the third largest bull statue of India. There is also a brightly painted statue of Mahishasura on the foothills and this is a hotspot for clicking group photos by all tourists.
Places to stay near
Chamundi Hill Bull Statue
Reviews of
Chamundi Hill Bull Statue
•
1
This morning, after breakfast, we head out for our first steep challenge, the Chamundi Hills. Scaling 3489 ft in just 13 Kms to see the temple of Sri Chamundeshwari, the deity of the royal family, we'll spend the morning at the beautiful temple with its colossal statue of the Nandi Bull, before cycling down for lunch in the city. Post lunch a lot of Mysore, still unseen, awaits us. We start with the 14th Century Amba Vilas Palace, which we pass again later at night, to see this beautiful structure lit up at night. We then move onto the Jayachamarajendra Art Gallery. After the two main historic sights here, its time for the busy Devaraj market. The market is a heady concoction of sights, sounds and smells - stalls stacked with conical mounds of Kumkum, stacks of glittering bangles, blocks of jaggery, and huge mounds of fragrant marigolds, jasmine, asters and even antiques!
Attractions near
Chamundi Hill Bull Statue