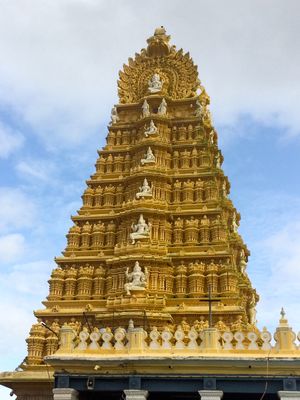 Places to stay near
Chamundeshwari Temple
Varsha Enclave Novelty House
Varsha Enclave- White House
Vishranth Service Apartment
Reviews of
Chamundeshwari Temple
•
3
The Chamundi Temple on top of the Chamundi hills is the most famous temple in Mysore, since Goddess Chamundi or Chamundeshwari is the presiding deity of Mysore. She is the tutelary deity held in great regard for hundreds of years by the royal family of Mysore.The holy temple of Goddess Chamundeshwari is perched atop the Chamundi Hill. It is located 13 kilometres from the city of Mysore or Mysuru as it was originally named.
This is located on top of the hills and the ride to the hills is itself pretty amazing. You can see the whole town of Mysore up from there. The mandir in itself is pretty lovely and it is a must do thing when in Mysore.
The Chamundeshwari temple was built in 13th century. The temple is located on the top of Chamundi hills about 13 km away from the palace city of Mysore in the state of Karnataka. This temple was named after Chamundeshwari or Durga, the fierce form of shakti . This is considered as the shakti peeth and is among the 18 maha shakti peeth. The temple has a seven storey tall Gopura/Gopuram decorated with intricate carvings. The deity of the goddess is said to be made of Gold and the entrance doors are of Silver.
Attractions near
Chamundeshwari Temple