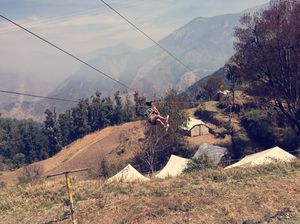 Things to do
Trekking camp
High Mountain Trekking Camp
High mountain trekking camp is trekking camp it takes 3.2 km of trekking to reach camp site. High Mountain Trekking Camp offers eco -friendly accommodation in Nainital.
Places to stay near
High Mountain Trekking Camp
Colonal's Cottage, Mall Rd Nainital
Himalayan Retreat Neelkanth
Reviews of
High Mountain Trekking Camp
•
1
We reached Nainital by 9am after stopping by at Bhimtal. We had booked the trekking camp called as MudHut Houses or High Mountain Trekking Camp from Makemytrip. And boy, it was sooo beautiful! Stay, activities and food were included in the cost. They had many activities like ziplining, rope climbing, sunset points, waterfall trek etc. in the cost. (https://www.google.co.in/search?q=high+mountain+camping+nainital&source=lnms&tbm=isch&sa=X&ved=0ahUKEwj_0LyBm-XLAhWECo4KHWuFB-cQ_AUICCgC) They had 2 choices of stay - 1. tent and 2. mud huts and we opted for mud huts. Evening time, we had bon fire and guitar played by Junaid ji. Reaching this spot or camp is a 1hour trek itself from Nainital. We were happy that we opted for this since staying in a raw houses under the stars with chilled breeze was much better than staying in a luxurious hotel and enjoying view of other man made buildings!
Attractions near
High Mountain Trekking Camp