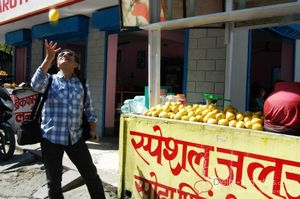 Rank
6 out of 37 attractions in Nainital
Kainchi Dham
Kainchi s a placed at associate degree altitude of (1400 MT) On the Nainital – Almora Road, at a distance of nine kilometre from Bhowali and seventeen Kms from Nainital could be a unique pilgrim centre. This place has achieved recognition due to the ashram of the notable Shri neem tree Karoli Maharajji.Many individuals visit the temples here daily, in season. Kainchi could be a term used for 2 sharp pin bends of the motor road in native idiom thence the name. It's NO relation with scissors. Founded by the notable Maharaj neem tree Karoli cake in 1962 and is extremely well maintained and unbroken neat and clean. The idea of this place came into existence in 1942 once Maharaj neem tree Karoli at the side of Shri Poornanand of the Kainchi Village projected building associate degree Ashram here dedicated to Sombari Maharaj and saddhu Premi cake World Health Organization wont to perform yagnas during this terribly place.
Places to stay near
Kainchi Dham
Colonal's Cottage, Mall Rd Nainital
Himalayan Retreat Neelkanth
Reviews of
Kainchi Dham
•
2
Try visiting this place if you have the time to spare. You will never regret it.
Our first stop was the Neem Karoli Temple at Kainchi, about 27 km from Nainital. A newly constructed sparkling structure with a spread out campus housed the idols – Durga, Hanumanji and the Guru Neem Karoli. The place was very clean but the guards were strict – they were objecting to even the slightest whisper. We had the special lemonade outside the temple – this comprised fresh juice extracted from Galgal – a member of the citrus family – looked more like green lime.
Attractions near
Kainchi Dham