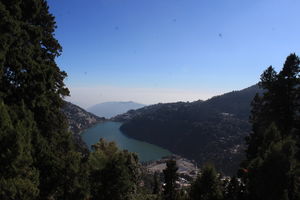 Rank
9 out of 37 attractions in Nainital
Naina Peak
Naina peak is the highest peak of the city, at associate degree altitude of 2611 mts. and at a distance of 5 Kms from the city .It commands associate degree bewitching read of sparkling snow laden Himalayas from Bandar record west to Api and Nari peaks of Nepal within the east, a full chain zero in one facet and a birds eye read of the lake town of Nainital in its full grandeur on the opposite. With a combine of binoculars an honest panorama of the tract encompassing Nainital is obtained. Pony or Horses are often employed to go to this peak either from Snow read or from Mallital. The road to Naina Peak results in a nice forest of spirited rhododendrons, soaring deodars and cypresses. Naina Peak offers tantalizing views of the encircling landscape.Nature at its best is that the right word to explain this magnificent peak.
Places to stay near
Naina Peak
Colonal's Cottage, Mall Rd Nainital
Himalayan Retreat Neelkanth
Reviews of
Naina Peak
•
2
Things To Do: Plan a trek to Naina Peak through forests canopied with rhododendrons. The peak lies at an altitude of 8,579ft, and is Nainital's highest peak. You could also go to Khurpatal, lying at an altitude of 5500ft and 12km from Nainital. This beautiful hamlet can be reached via the Kaladhungi Road.
Breathtaking view of the whole hill station. Roam around, click pictures and do some chit chat.
Attractions near
Naina Peak