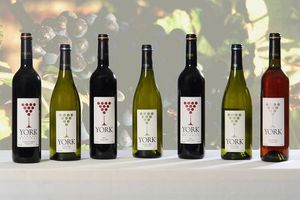 Things to do
Go on a tour her, taste and buy a bottle of wine.
Budget
Like others, the price depends on the variety and a bottle can come at INR 750.00
Traveller Types
Friends, Families, Couples
Rank
8 out of 68 attractions in Nashik
York Winery & Tasting Room
This winery is built on a natural slope and has separate tanks for red and white wines. The place produces a staggering 1 million litres and its storage area is around 6000 square feet. York Winery is famous for the red wine grapes that are used in the manufacture of their best tasting red wines. To get here, one has to travel to the Gangavarhe Village. It is advised that one make a call to the winery and have a reservation made before the visit. The place is huge and offers one a tour of the winery while a guide talks one through the wine making process.
Places to stay near
York Winery & Tasting Room
MTDC Approved Mohiniraj Guest House
Reviews of
York Winery & Tasting Room
•
1
Yet another one in Nashik. Well, if you're taking the time to drive down, you might as well make it a few days off and hit all of them! But don't do more than three in a day – it'll just get too much and anyway, half the processes look the same to most folks (like me). York Winery's vineyard is also on a hillside and along a lake. They have a tasting room with daily wine tasting sessions from noon till night, except on dry days. The setting is nice, as it is everywhere in Nashik – being able to design a tasting room so that it overlooks a lake does that. York has two whites, five reds, a rose and a really nice dessert wine for those who have a sweet tooth.
Attractions near
York Winery & Tasting Room