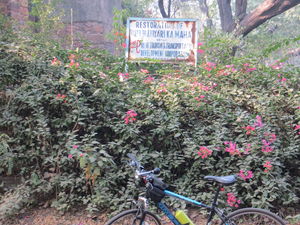 Best time to visit
8:00 AM – 2:00 PM
Things to do
Explore the history of the Tughlaq dynasty and their tastes and preferences when it came to art and architecture.More details: The nearest metro station is the Jhandewalan Station.
Rank
287 out of 370 attractions in New Delhi
Bhuli Bhatiyari Ka Mahal
This building was built by ferozeshah Tughlaq as an inn or a hunting lodge for the royal parties. The design and architecture of the place which is now in ruins is much better for a building not so important. This shows the king's tastes and keen interest towards development and modernization. The ruins are still a symbol of the grandeur of those days given the huge arch and twin gateways on almost all sides. The name was actually Bhulli Bhatti which became bhuli Bhatiyari. The forest surrounding it is now not so dense as it is said to have been in the past. It is also a Heritage site and under the observation of the Archeological Survey of India.
Places to stay near
Bhuli Bhatiyari Ka Mahal
Superior Double AC With Breakfast
Bnb room 4 near metro and airport
Optimum Palm D'or @ New Delhi Railway station
Reviews •
2
Then I headed to Bhuli Bhatiyari Mahal, which is not a palace but a hunting lodge of Muhammed Tuglaq of Tuglaq dynasty. What struck me immediately while walking from the temple to the monument was that the pathway leading to the hunting lodge was merely 500 meters away from the bustling temple, but a world apart, with trees lining the road, ridge on both side and a beautiful silence of nature all around.The Bhuli Bhatiyari Mahal was a quaint structure, with basic embellishments at the main doorway and open space inside. It is rumoured to be haunted but I don't think theres any truth to it as surrounded by ridge forest, it just has an air of mystery to it; I can imagine walking here in the dark or even in moonlight with the sounds of forest around and it can definitely seem haunting to any imaginative mind.
Bhuli Bhatiyari ka Mahal is situated behind famous Hanuman Temple of Panchkuyian Road near Karol Bagh. This is an old hunting lodge of Tughlaq, now considered as a haunted place in Ridge. I was little scared but, its morning time so no fear and hanumaji temple was just behind.. So no problem at all.. Also the old, non functional amphitheater was nice to see..
Attractions near
Bhuli Bhatiyari Ka Mahal