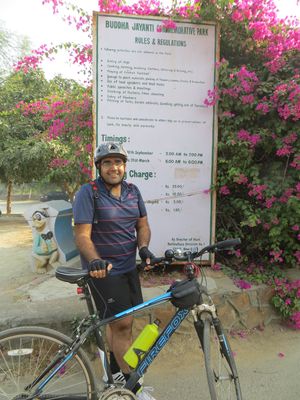 Best time to visit
11:00 AM – 6:00 PM
Things to do
Enjoy the sight of natural beauty, relax during summer afternoons.
Traveller Types
Families, Friends, Solo
Rank
120 out of 370 attractions in New Delhi
Buddha Jayanti Park
This park was opened to mark the 2500th birth anniversary of Lord Buddha. The beautifully designed park has a huge Buddha statue in the heart of it. The statue is erected on a stone platform that is surrounded by a stone fence made of circular stones. The park is situated in the Delhi Ridge area and can be easily reached from any side of the city. The statue stands high in between the water channel is like that as the symbol of gratitude of the Tibetan people. The stones around the fence are of different colors based on the Kalachakra Mandala. In the Mandala yellow stands for earth, white stands for water, red stands for fire, black stands for air and green stands for space.
Places to stay near
Buddha Jayanti Park
Superior Double AC With Breakfast
Bnb room 4 near metro and airport
Optimum Palm D'or @ New Delhi Railway station
Attractions near
Buddha Jayanti Park