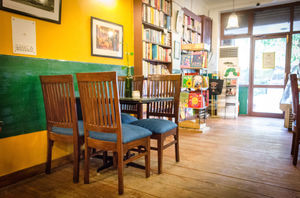 Best time to visit
4:00 PM – 7:00 PM
Open hours
9:00 AM – 9:00 PM
Things to do
Eat and meet over coffee, snacks and cool juices. It is also an ideal place for book lovers and romantic dates. They also have catering and delivery services.
Cafe Turtle
Situated in the heart of a busy Delhi market place in the Nizamuddin East area or the Khan Market, this is a vegetarian Café and book house. This has an awesome ambience and décor that makes it look almost like a tree house where you can also opt to sit on the rooftop and sip a cup of steaming cappuccino with your favorite book in the other hand. They serve ace quality food at a very procket friendly price range. The inside is very comfortable and homely and the service is ten on ten. The menu is limited to some very tasty vegetarian stuff and the beverages are famous in the whole New Delhi area. The bookstore is stacked with the best writers of all times and you are sure to find your niche in this lovely place.
Places to stay near
Cafe Turtle
Superior Double AC With Breakfast
★☞ The historical Center of Delhi !
Bnb room 4 near metro and airport
Quiet comfort in green surroundings
Safe & Cosy B&B near City Centre
Reviews of
Cafe Turtle
•
2
Where: Shop 23, Khan MarketPrice for two: ₹8009. Treat your senses to a play or cultural show
It's a simple and beautiful cafe where one can spend some quality time with oneself. The atmosphere is peaceful. One can read, write and relax over here.
Attractions near
Cafe Turtle