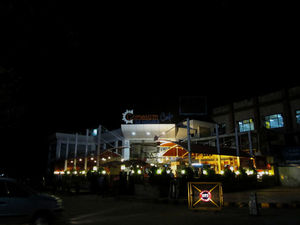 Best time to visit
Across The Year
Things to do
Fast Food, North Indian, South Indian, Desserts
Comesum
Comesum is an Indian food restaurants having a chain of food junctions across many cities in India.
Places to stay near
Comesum
OYO 2705 Hotel Preet Palace
★☞ The historical Center of Delhi !
Stay in a true Delhi neighbourhood
Quiet comfort in green surroundings
Reviews of
Comesum
•
1
Comesum is a 24 hour food court located inside the Nizamuddin Railway Station. Like all food courts, Comesum too has massive variety and you can choose to grab a quick bite or a more leisurely meal. It is a cheap and lovely alternative to grossly overpriced 24 hour five star coffee shops. Everyone is surely going to find something to eat that suits their mood, and you can eat to your satisfaction. Round it off with some hot chai at the chai wallah.