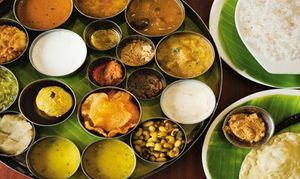 Best time to visit
12:00 PM – 7:00 PM
Open hours
11:00 AM – 11:00 PM
Hotel Saravana Bhavan
This is one of the best places if you are a South Indian food lover. The Saravana chain is spread all across the world including many countries and their food and service is praised everywhere. It is considered as one of the best places to have South Indian delicacies all around north India. Their specialties are simple dosa, idlis and South Indian dessert varieties. The service is quick, food simple and tasty and the ambience is comfortable and homely. So, if you want some good food on a casual afternoon, this will suit you really well.
Places to stay near
Hotel Saravana Bhavan
Superior Double AC With Breakfast
Bnb room 4 near metro and airport
Optimum Palm D'or @ New Delhi Railway station
Reviews of
Hotel Saravana Bhavan
•
2
a) For South IndianBudget - Rs. 600 for 2 
Address - No. 50, Janpath Road, New Delhi, Delhi 110001.

Easy on the pocket - Best South Indian food in Delhi
Attractions near
Hotel Saravana Bhavan