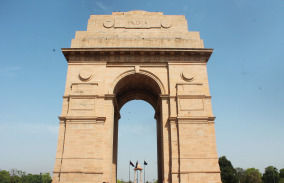 Best time to visit
4:00 PM – 6:00 PM
Open hours
6:00 AM – 6:00 PM
Things to do
No extra charges are to be paid to visit this place. Relaxation spot during summer evenings with the whole India Gate lit up with bright lights. It is a famous picnic spot too especially during the winters.
Traveller Types
Families, Friends, Couples
Rank
13 out of 370 attractions in New Delhi
India Gate
This is the pride of Delhi that was earlier known as the All India War Memorial. This monument was built by the Lutyens in the memory of all the 90000 soldiers who sacrificed their lives for the welfare of their country during the World War I. The names of each of the soldiers are inscribed on the walls of the monument. The Amar Jawan Jyoti or the Eternal Flame burns here 24 hours as a symbol of remembrance of the brave warriors. On the opposite side of the monument is the very controversial canopy where was once placed the marble statue of Prince George which was later removed from here.
Places to stay near
India Gate
OYO 2705 Hotel Preet Palace
Superior Double AC With Breakfast
★☞ The historical Center of Delhi !
Stay in a true Delhi neighbourhood
Reviews of
India Gate
•
30
Attractions near
India Gate